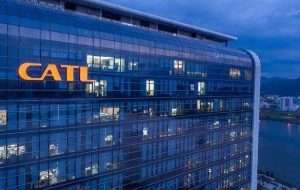 NINGDE, China — As the global pandemic hit, the world's biggest maker of electric car batteries, a Chinese company now worth more than General Motors and Ford combined, suddenly faced its own crisis.
A rival had released a video suggesting that a technology used by the company, CATL, and other manufacturers could cause car fires. Imitating a Chinese government safety test, the rival had driven a nail through a battery cell, one of many in a typical electric car battery. The cell exploded in a fireball.
Chinese officials took swift action — by dropping the nail test, according to documents reviewed by The New York Times. The new regulation, released two months later, listed who had drafted it: First on the list, ahead of the government's own vehicle testing agency, was CATL.
The shift did not expose the world to unsafe batteries — other countries do not require a nail test — but it showed China's commitment to nurturing a corporate champion with a strong and growing sway over the future of driving. CATL has given China a commanding lead in electric car batteries, a technology central to the broader green revolution. The company already supplies batteries to almost all of the world's automakers, including G.M., Volkswagen, BMW and Tesla. CATL has emerged as one of the biggest winners of the electric car boom, along with Tesla.
The battery giant stands as a crucial link in a green-technology supply chain increasingly dominated by China. Chinese companies, particularly CATL, have secured vast supplies of the raw materials that go inside the batteries. That dominance has stirred fears in Washington that Detroit could someday be rendered obsolete, and that Beijing could control American driving in the 21st century the way that oil-producing nations sometimes could in the 20th.
Chinese government officials made sure CATL's business stayed in Chinese hands. They created a captive market of battery customers. And when CATL needed money, they doled it out.
"CATL definitely seems like it's the concept and creation of a master plan," said Michael Dunne, a former G.M. executive in Asia and now an analyst.